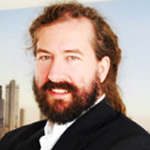 Michael H. Grote
Vice President Academic Affairs & Academic
Director for the Master of Finance.
Interview with Prof. Dr. Michael H. Grote
We are facing turbulent times in the financial sector. How does Frankfurt School prepare future financial managers for this challenge?

The content of the Master of Finance modules is being continuously adapted. With the largest Finance Department in Germany and a highlydeveloped corporate network, Frankfurt School comprehensively addresses both theory and practice. Feedback from both worlds is constantly integrated in the programme to prepare students for the globally changing environment. We are introducing a Risk Management concentration in 2013, reflecting the finance industry's demand for specialists in this area. You'll find high-profile practitioners and experienced specialists in many classes in the Master of Finance programme who are using actual case studies based on their experience. That said, we believe that a sound analytical basis is a major ingredient of our students' readiness for future challenges.

What qualifications are important for Frankfurt School students and future careers in the finance sector?
Our students are highly motivated to analyse complex problem settings and eager to develop their own solutions to these. The Master of Finance fits those with a business administration or economics background as well as students that have a more technical first degree, such as in mathematics, sciences or engineering. A clear focus and sharp analytical skills are essential in order to pursue a successful career in today's turbulent world. During the programme students specialise according to their personal goals and interests. Graduates of the Master of Finance programme are also sought after in many other industries – firms need to finance themselves, and regulators and government agencies also need a clear-cut understanding of financial markets.

What makes Frankfurt School's Master of Finance graduates special?
Our graduates hold an internationally recognised degree from the leading German finance school – Frankfurt School of Finance & Management. They are highly respected in Europe and beyond because they act responsibly and because of their first-class analytical skills and cutting-edge practical and conceptual knowledge. They have proven that they can manage a world-class demanding programme. We are proud of them!