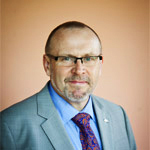 Professor Clive Smallman
Dean, School of Business, Western Sydney University
Director, Sydney Graduate School of Management (SGSM)

This year, WSU celebrates our 25th anniversary as a university in Australia. In a relatively short time, WSU has grown to become a truly world-class university. We are now placed among the world's best 400 universities as well as the top 100 universities under the age of 50 in the influential Times Higher Education rankings. This status underscores the significant work we have undertaken to broaden the University's international horizons.

Over 4,000 international students from over 90 countries choose to study at WSU each year. Our recruitment success stems from providing high quality education that combines academic study with practical experiences. Courses are designed so that our graduates will succeed in their careers within an increasing global environment.

As we look forward to the future, our international student community plays a vital role in further developing ourselves as an internationally recognised university.

The University's international initiatives and success is also achieved in developing partnerships to support research and educational priorities, and creating student flow by way of pathway arrangements for students from overseas universities. It is with great pleasure and pride that we now partner with the BSE Institute in delivery of the unique dual degree – Master of Business Administration/Master of Applied Finance. We hope students enjoy the four units on offer in Mumbai, and we are looking forward to welcoming them to undertake the balance of their studies in Australia.